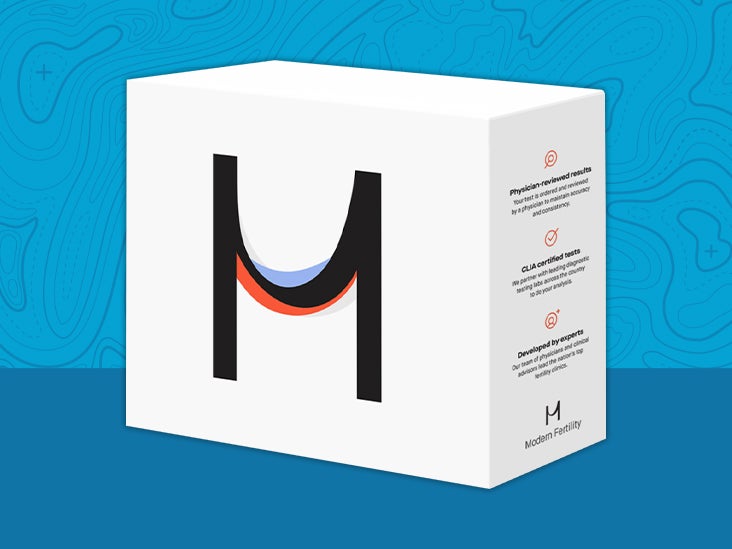 Modern Fertility Review 2022: Reliability, Process, FAQs
Modern Fertility's services help people monitor their reproductive hormone levels. A person may find it more affordable than some other fertility services.
Upon starting Modern Fertility and after registration is complete, a customer receives a test kit in the mail. It contains everything they need to take a finger prick blood sample. They then ship their sample. When the results are ready, they are accessible online with secure login information. The company offers a complete follow-up and support service.
Modern Fertility also offers home ovulation and pregnancy tests and prenatal vitamins, all discreetly delivered.
Modern Fertility's intention is to enable people with ovaries to better understand their fertility for family planning purposes. It was founded by two women in 2017 and is supported by an experienced medical advisory board.
Modern Fertility sells a fertility hormone blood test that gives results in 7-10 days. It also sells instant result urine tests for ovulation and pregnancy.
Does Modern Fertility have medical professionals on staff?
The company has a team of healthcare professionals, including endocrinologists, fertility researchers and specialists in obstetrics and gynecology.
Below we take a look at some of the different tests offered by Modern Fertility.
Fertility hormone test
This tests for:
Antimullerian Hormone (AMH): The ovaries make this hormone, and the levels may reflect a person's egg reserve or monthly egg count.
Thyroid Stimulating Hormone (TSH): The brain makes this hormone to help regulate thyroid hormone produced by the thyroid gland.
Free Thyroxine: It is the active form of the thyroid hormone.
Follicle Stimulating Hormone: The brain produces that. It stimulates the growth of follicles, which allows ovulation to occur.
Estradiol: It is a female sex hormone and a type of estrogen.
Prolactin: This is important for the production of breast milk and can influence ovulation.
Luteinizing Hormone (LH): This is important for ovulation and the regulation of the menstrual cycle.
Some forms of birth control can influence these hormones. The company notes that if a person is taking a hormonal contraceptive, they will only receive AMH and TSH results.
Ovulation test
This home test involves dipping the test strip into a urine sample. The test measures LH to predict the 2-day period when fertility is highest.
Pregnancy test
This home test also involves dipping the test strip into a urine sample. It tests for human chorionic gonadotropin and gives instant positive or negative results.
Sperm tests
The company collaborates with Ro, a well-established digital health company. This collaboration allows her to offer a more comprehensive service that includes sperm testing.
The Modern Fertility medical team reviews the results of the mailed samples. After seeing their results, a person can discuss them with a fertility nurse. Additionally, a person receives an invitation to a weekly webinar, where they can learn more and discuss the results and their implications.
The company also has a wealth of information on its website, including blogs and articles that aim to answer a wide range of questions. Additionally, a person can ask questions of fertility experts and other contributors on a community platform.
The Better Business Bureau gives the company an A+ rating and it is accredited by the organization. It has 1 out of 5 stars based on a customer review.
Trustpilot gives the company 3.7 stars out of 5, also based on a customer review.
Positive feedback mentions fast delivery, discreet packaging and good service. The less favorable comments mention communication difficulties.
Before a person places an order, the company asks them to complete a short questionnaire designed to create personalized service.
When the company receives the order, they send the kit with instructions on when to take the test and if a fast is needed. The kit comes with a prepaid envelope that the person uses to return their sample.
The company claims to use labs that comply with College of American Pathologists (CAP) regulations. A person can usually access their results online within 7-10 days.
Take an exam
To take a blood sample, a person pricks their finger with the lancet provided. The kit contains instructions that describe the easiest ways to draw enough blood. The person must let the sample dry completely before sending it back to the laboratory.
Once the company's medical team has reviewed the results, the individual receives an email notification that their personalized fertility profile is available on the company's online portal.
If a person prefers not to draw their own blood, they can go to a Quest lab to provide their sample.
Below are some Modern Fertility test costs.
The company says it doesn't charge for repeat testing if the first one is inconclusive.
Modern Fertility does not work with private health insurers, but a person may be able to use funds from flexible spending accounts or health savings accounts to pay for testing.
Below we look at some pros and cons of using Modern Fertility.
A person may consider seek medical advice if:
They want to conceive, are under 35 and have not been able to conceive after 12 months of trying.
They want to conceive, are 35 or older and have not been able to conceive after 6 months of trying.
The test results are outside the expected range.
They show symptoms of a health problem.
Below are answers to common questions about Modern Fertility testing.
Is modern fertility accurate?
The company's website says its pregnancy tests are 99% accurate.
A 2019 review comparing blood samples taken from a finger with samples from a vein has shown that both are reliable and comparatively effective ways of checking fertility.
Modern Fertility sends finger prick blood samples to CAP-certified labs, so it's reasonable to assume the tests are accurate.
How long does it take to get modern fertility results?
Results are available within 7-10 days of a person submitting the sample.
Will Modern Fertility tell me if I'm infertile?
No. The test measures reproductive hormone activity, it is not a diagnostic tool.
Modern Fertility's hormone testing and tracking services can help people better understand their reproductive health.