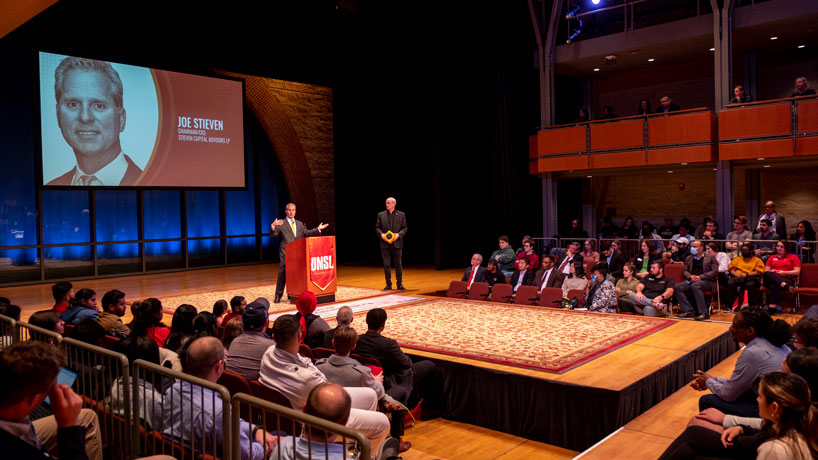 Launch of Alumni Conversations Speaker Series with UMSL Alumnus Joseph Stieven – UMSL Daily
Last week, the University of Missouri–St. The Louis Alumni Association presented the first in a six-part speaker series called Alumni Conversations, featuring distinguished alumni sharing the wisdom of their professional experience on a different topic.
The series is a collaboration between the Office of University Advancement and the College of Business Administration, and it was developed to allow students to connect and glean career insights from UMSL alumni who have had a impact in the region.
The inaugural event was held on Ethics Day and was titled "Ethics: A Foundation for Success," UMSL alumnus Joseph Stieven, Chairman, President and CEO of Stieven Capital Advisors, LP, at the E. Desmond and Mary Ann Lee Theater in the Blanche M. Touhill Center for the Performing Arts.
The series was conceived by Stieven and his wife, Mary, and inspired by Stieven's relationship with his mentor, St. Louis businessman Elliott Stein, whom he considered a pillar of ethics. It aims to support students in their professional and personal development.
Stieven explained how the series was created and its intention to the public.
"We thought this would be a great way to help our young students understand the importance of ethics," Stieven said. "We want this to inspire you, allowing you to hear real-life stories from UMSL graduates about the importance of ethics to success on life's journey. And all of this, while providing you with a great opportunity to interact and network with these people."
More than 100 students attended the event, which also included remarks from UMSL graduates Warner Baxter, Executive Chairman of Ameren; Orvin Kimbrough, President and CEO of Midwest BankCentre; Marcela Manjarrez, former executive vice president and director of communications at Centene; and Sandra Van Trease, former group president at BJC HealthCare.
Dan Lauer, the founding executive director of UMSL Accelerate, introduced Baxter, Manjarrez, Van Trease and Kimbrough, all of whom spoke briefly before Stieven addressed the audience. Each recounted experiences from their professional careers that centered around ethics, with Manjarrez noting that it only takes one misstep with integrity to shatter public trust.
Stieven spoke about his career and Stein, who served as an example not only of ethics but also of humility. The talk was rooted in Stieven's "list of ten guiding principles," which included "always speaking the truth" and "pressure is a privilege," because in his view, it puts a person in a position where the it is expected to excel.
A point that Stieven repeated repeatedly in students was that "excellence attracts attention", encouraging them to always do their best in life and in business.
In explaining how ethics are at the heart of his business, Stieven referred to his company's strict code of ethics, which requires professional and personal integrity to remain in good standing within the company.
After finishing his speech, Stieven took questions from the audience. One participant asked him what he had learned about ethics at UMSL, and he recalled that the lessons of ethics were not taught to him directly, but rather by observing the care, support and the kindness that professors extended to students and their peers. Stieven learned by example what ethics looks like and how it is implemented in everyday life.
The students also had the opportunity to chat with the alumni at the end of the event. Many found the conversations and the general event to have an impact.
"I thought it was super interesting to hear from so many CEOs of big companies and their experience at UMSL," said Breanna Trail, a sophomore in accounting and finance. "Then to hear their story and the advice they have for us – I thought that was super insightful and really helpful at the start of my career. I bonded with a lot of the things they talked about.
Another student, Devin Womack, a business major, left the event inspired.
"I think one of my biggest takeaways," he said, "is the fact that if we just believe in ourselves and those around us, there's so much that we can build and create within the community."
Alumni conversations will continue through the fall and spring semesters through 2025.

Short URL: https://blogs.umsl.edu/news/?p=95690