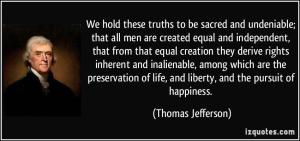 Introduction by columnist/blogger Julie Nichols
Hello, my name is Julie Nichols. In addition to what Patheos said about me in my introduction, I serve children with developmental, learning and cognitive disabilities as a specialist pediatric therapist. I also serve as an advocate for them and affirm that ministry to persons with disabilities, LBGTQIA+ youth and their families supports their needs for the right to life and human dignity. Many neurodiverse children and their families, such as families with autistic children, also have LBGTQIA+ family members at a rate 3 to 6 times higher than the general population, although the LBGTQIA+ spectrum does not is not a disability/disorder spectrum. It doesn't make anyone "less" than another person, but equally different, though our political climate has defined those who are as different as "less than the rest," especially in hard-right Texas politics. That certainly doesn't include all Republicans. I believe that every person who walks this earth is also created in the Imago Dei, in the image of God, without exception.
I hope my column/blog can be helpful to some who are struggling with current events in the church and in unfairly linked American politics. Many American Christians are totally alienating themselves from the American church and their faith right now, more because of how right-wing politics has corrupted many churches than because of the secularism that drives people away from churches. According to the latest Gallup poll in 2020, Church membership in America falls below the majority for the first time at 47%.
This column/blog will also explore past and current events, how different religious traditions are affected, and how closely (not all) the conservative parties of "right-wing white American Christianity" are with the far-right American politics of the Party. Republican, especially in Texas. This includes much, but not all, of American Evangelicalism, some High Church Protestantism, just under half of American Catholicism, and a small percentage of Eastern Orthodoxy in America who are mostly whites, those parties who have deliberately been bedfellows with the Republican Party for the past 40 years, with Donald Trump, and his re-election in an effort to "get revenge" on the "other side" and impose dogma religious "Christian" to all secular American society. I've been heavily criticized for tackling politics in many of my writings, but this marriage has grown over 40 years, finally resurfaced with Trumpism, and it's impossible to ignore and deconstruct for to advance. American Christians and society as a whole simply cannot "recover" from large parts of the American Christian church (not all of them) that have been increasingly armed politically for four decades. Some call this marriage Christian nationalism while I call it religious fascism because I don't want to associate genuine Christianity with the political scene that we have lived through and are living through now. Christian nationalism (religious fascism) says in a nutshell that white, Christian, native-born straight people are "better than" everyone else and "deserve" more basic human rights than anyone who is "less than" in their eyes. In the eyes of Christ and his teachings, this is the exact opposite of who he is and what he taught in the gospels because Jesus puts the most vulnerable first, not last.
Religious fascism is growing all over the world right now. I believe that religious fascism is antithetical to genuine Christianity, to Catholic social teaching, to the heart of the Gospel message, and to everything Jesus Christ has said and done. After being a moderate Texas Republican all my life witnessing how minority groups outside the womb were/are treated and shunned during the Trump era and even earlier, I became a Democrat to support the marginalized outside of the uterus. The Democratic Party is not perfect, but I believe it aligns better with the gospel, especially the Sermon on the Mount, which I will describe below.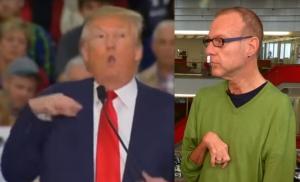 The day Trump poked fun at the disabled journalist in 2015, specifically how it relates to my profession as a specialist pediatric therapist, my eyes began to open to a wide range of social injustices, especially in the areas of racism, legislative attacks on transgender children in Texas. , and a dangerous lesson in Texas gun restrictions. I also changed party affiliation because I believe that many (not all) white religious leaders on the hard right of the Republican Party have taken 15-20 Bible verses that talk about the subjugation of women and the sexuality, and they waged war against the poor and disenfranchised who are supported and defended by 2,000 Bible verses and Catholic social teaching. Many leaders, mostly religious right and moral mainstream leaders steeped in racism, have taken the issue of abortion and a few others related to religious freedoms and sexuality, and used them as weapons to coerce other Christians to vote republican against "the Christian religion". Duty" growing to the point of abuse over the past 40 years. The religious right did so in exchange for decades of vital services and security for millions of vulnerable Americans in the following areas: disability, nationalized (unsocialized) health care, Medicare, Medicaid, Social Security, WIC, food stamps, living wages, gun safety, environmental safety, etc…. and they call these safety nets and safety precautions "socialism" or even "communism", but America is the richest country in the world that can afford to take care of the most vulnerable in our society, and we can enable us to ensure the safety of our citizens. Yet the political hard right rejects all of this in the name of unsuccessfully ending abortion and voting against people outside the womb rather than marginalized people and our environment. It doesn't matter who they hurt as long as they get political power. The Church/asbl cannot and will not support the common good of society alone. I know this from serving disabled children in my profession, raising a disabled son for 20 years, battling Parkinson's disease myself, and being the only Republican in a Democratic field for 25 years, despite being a Democrat. now.
The political hard right elected one of the most abrasive, dishonest, corrupt, hateful, unchristian tyrants they could ever elect (Donald Trump) in the name of Jesus Christ to "get revenge" on the Democrats. including the most vulnerable, while emulating his cruel and hateful behavior towards others who disagree with or look like "white straight Christian Americans". Essentially, a hierarchy of fear and contempt for other races, women, people of other faiths and the "other less than people" has been created over four decades by the political hard right interwoven with large swaths of the White American fundamentalist churches around the world. some (not all) of the church spectrum I mentioned above. This is what the late Reverend Billy Graham, who was also a Democrat until his death in 2018, sternly warned against. As Pope Francis says, "the measure of a society's greatness is in how it treats those who need it most, those who have nothing but their poverty."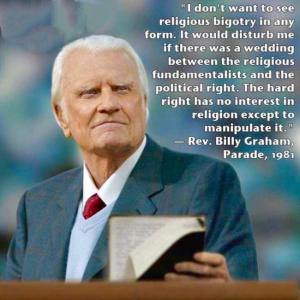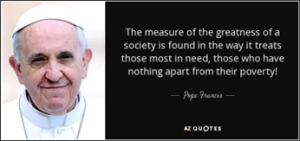 I hope my column/blog will bring hope and light during times of political friction from inside, outside the Church and in American society at large and in particular in the society texan. Make no mistake that history and politics can profoundly shape our culture and even our worldviews on faith. Although changing, growing and shifting to a more progressive gospel-centered worldview was very difficult for me beginning in 2015 over a period of seven years, the results enriched my spiritual walk, developed relationships with a diverse of people richer and broader, and more closely linked my relationship to our Creator who is the Lover of all humanity, not just a part of humanity. I hope my column/blog will help you do the same if you so desire.
Love and Blessing—Julie Nichols