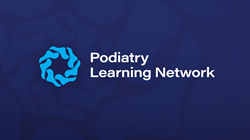 HMP Global Increases Value to Podiatry Community with Launch of PodiatrySource Product Guide and Podiatry Learning Network

MALVERN, PA (PRWEB)
July 12, 2022
As healthcare professionals in the podiatric community navigate a complex and ever-changing field, HMP Global, the leading healthcare education and events company, today announced the launch of two offerings Added Value, PodiatrySource and the Podiatry Learning Network.
The Podiatry Learning Network is the premier digital hub for podiatrists and provides direct access to clinically relevant news and information, expert insights and continuing education. The network joins HMP Global's portfolio of highly respected learning platforms dedicated to serving as online information hubs, and is a one-stop destination offering practical and relevant content and education guided by podiatry professionals.
Visitors to the new network can create a personalized experience, selecting the topic preferences most relevant to them; receive regular email updates with the latest news and carefully curated content; grow professionally with the network education repository; and connect with fellow podiatrists around the world through the platform's networking options.
"With the creation of the Podiatry Learning Network, HMP Global is providing a single, definitive resource that podiatry professionals can rely on to access important clinical knowledge about new therapies and treatments on a wide range of topics, and benefit from a highly specialized content experience," said David DePinho, President of HMP Global. "Healthcare professionals in the field of podiatry will benefit from this comprehensive resource to benefit from ongoing professional development and provide patient care. of the highest quality."
PodiatrySource
HMP Global is also launching PodiatrySource, a one-stop resource of independent, clinically reviewed and unbiased information to help clinicians make informed decisions about podiatric care products.
Powered by Podiatry Today, the premier, award-winning online publication and platform, PodiatrySource will provide shoppers with the trusted information they need to take action and make decisions about product selection and purchase. It will provide 24/7 access to information on an interactive and user-friendly digital platform.
"Podiatry Today audiences are invested in providing patients with optimal care and keeping up to date with the latest product offerings in the field is part of how they achieve this goal," said Jennifer Spector, DPM, FACFAS, editor of Podiatry Today, a trusted publisher. podiatric medicine and surgery resource that provides engaging content to help clinicians improve patient care. "Creating PodiatrySource is a natural synergy of the education provided by Podiatry Today, with solid information on innovations provided by companies in the podiatric field."
PodiatrySource is currently highlighting products focused on the practitioner in the office, and future updates will include more products and companies to better serve the entire foot and ankle medical and surgical community, Spector said. . PodiatrySource is free access with no subscription required for its use. Industry contacts can submit product information through the website, and enhanced opportunities are available.
"PodiatrySource is designed to quickly become the most widely used tool in podiatry for navigating the many product and service options available to healthcare professionals in the podiatric community," DePinho said. "It offers credible, reliable, and unbiased clinically reviewed content that clinicians can use during decision-making and purchasing processes."
The new PodiatrySource Resource Guide is based on the popular WoundSource Product Reference Guide. First published in 1998, WoundSource now includes more than 1,700 products made by more than 200 wound care companies. Its digital companion, woundsource.com, includes product listings and reviews as well as articles, blogs from industry thought leaders, white papers and other educational resources for wound care professionals.
For more information about PodiatrySource and the Podiatry Learning Network, visit hmpgloballearningnetwork.com/site/podiatrynet.com.
ABOUT HMP GLOBAL

HMP Global is the force behind Healthcare Made Practical – and is an omnichannel leader in healthcare content, events and education, with a mission to improve patient care. The company produces accredited medical education events – in-person and online through its proprietary VRTX virtual platform – and clinically relevant, evidence-based content for the global healthcare community in a range of therapeutic areas. Its brands include the HMP Global Learning Network, the most comprehensive source of healthcare news and information; Psych Congress, the largest independent mental health meeting in the United States; the evolution of psychotherapy, the world's largest independent educational event for mental health professionals; the Leipzig Interventional Course (LINC), the world's leading gathering for interdisciplinary cardiovascular specialists; EMS World Expo, the largest EMT and paramedic event in North America; and the Symposium on Advanced Wound Care (SAWC), the largest wound care meeting in the world. For more information, visit hmpglobal.com.
Share the article on social networks or by e-mail: