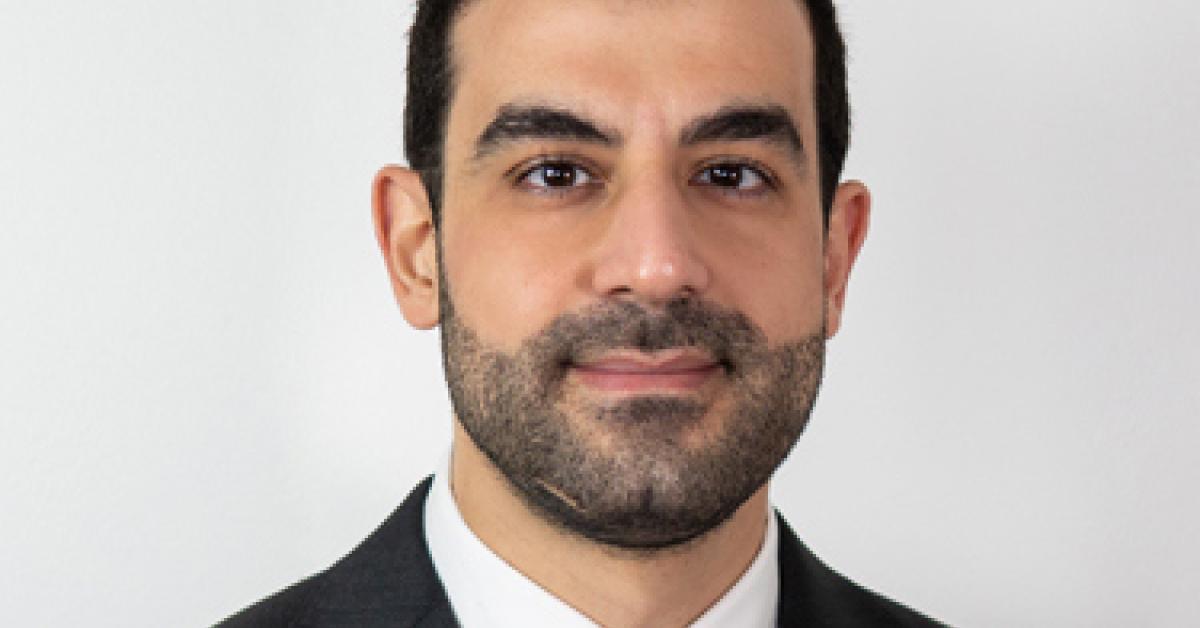 Companion Spotlight: Ahmad Zamzam | Duke Department of Neurology
In the suburbs of Damascus, where Ahmad Zamzam, MD, grew up, a local expression translates into English as "Stroke? Don't even bother with the processing. Disturbed by the lack of options reflected in that sentence, Zamzam decided he wanted to make a difference. Today, Zamzam acts as a "preventive" member of our Stroke Service as one of our Vascular Neurology Fellows. In this week's Spotlight interview, Zamzam talks about the lifelong pursuit of localization that led him to neurology, his plans to establish his own practice, and his fascination with horology when he is not at work.
What are your current responsibilities as a Vascular Neurology Fellow? What does a typical day look like for you?
I usually start my day early with baklava and Turkish coffee while I go through tests and pictures that were done overnight for stroke ward patients. I visualize a plan for the day, then I go to work. As a member of Stroke, my responsibilities include leading the DUH Stroke Inpatient Service as a "pretend" and creating an educational environment for all team members. We have the most amazing people in the world!
How and when did you become interested in neurology?
Neurologists and their eternal quest for "location" – we run around looking for the part or parts of the nervous system that might be broken, visualize possible neurological deficits based on the location of the part or parts we think are broken, and then we try to process also based on the location of the part or parts that we think are broken. As you can see, it requires a lot of imagination and mental drawing of models and figures. All in an effort to "localize". It is essentially caricature. My favourite hobby. Hence my passion for neurology.
How did you decide to specialize in stroke and vascular neurology in particular?
There is a metaphor from my small hometown in Al-Nabek on the outskirts of Damascus, Syria, which translates from my mother tongue to English as: "Stroke? oh, don't even bother to heal. The analogy between a stroke and an incurable disease always bothered me growing up. Especially after losing loved ones to stroke. I decided there was more room for faith and hope in stroke treatment and that I would make a difference.
Besides that obvious difference you mentioned, how do trends in stroke incidence, treatment, and recovery in Syria compare to those in the United States?
Stroke is a poorly understood pathological entity in Syria. As such, I can imagine it would be difficult to quantify the incidence and impact of strokes there. Most of it stems from the lack of importance given to preventive medicine (primary or secondary) and the lack of resources for rehabilitation. PPatients with heavy deficits end up being sent home, rather than being sent to acute rehabilitation or skilled nursing facilities. This pretty much eliminates their chances of proper recovery and healing. It also adds an additional burden to families who are already struggling socio-economically. All of these factors, and more, add up to shape this defeatist perspective of the community towards stroke. I am determined to build a better future for all by collaborating with other aspiring healthcare providers towards much-needed change.
What plans do you have for after completing your fellowship?
Traveling around the world before starting my practice, starting with Istanbul, Turkey.
Where do you hope to establish your practice?
It really depends on where I am in my professional career. For now, I would like to practice somewhere with access to a major international airport with inbound and outbound global destinations. Being able to fly direct to visit my family in Canada and the Middle East, and vice versa, is so convenient.
If you could have any job in the world, what would it be?
An expert taster of Mediterranean cuisine.
What is one experience from your time as a fellow so far that has been particularly memorable or helpful to you?
Working with leading experts from different departments to help CRAO patients regain their vision. The availability of a multitude of treatments ranging from tPA IV to hyperbaric to phenomenal nursing really warms my heart.
What do you like most about your job?
The incredible friendships and all the learning here at Duke.
What is the hardest part of your job?
Knowing that there are communities that are still not within reach of a comprehensive stroke center. I am optimistic about the future of stroke education and treatment and the scope of care.
What other passions or hobbies do you have outside of the department?
I love everything related to watchmaking. I spend hours reading blogs and watching watch vlogs. I can talk nonstop about the art of making and working mechanical timepieces. It's art at its best. So captivating!
Zamzam shared this photo of himself in Georgetown, Washington DC on game day.