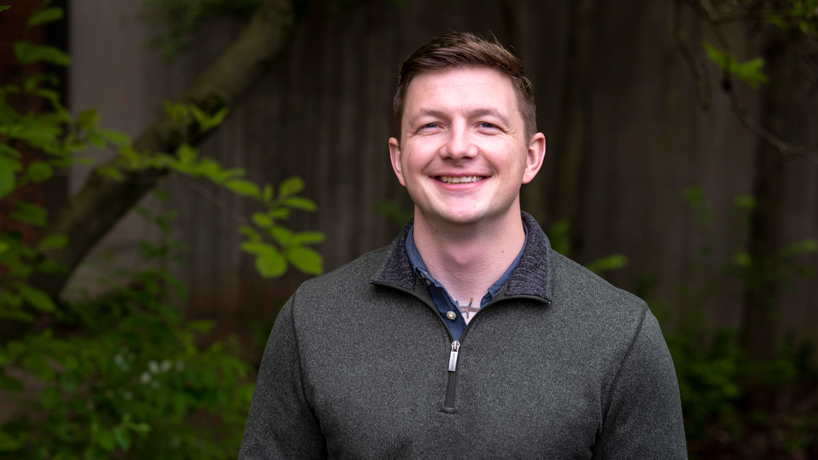 Communications graduate Michael Graham to be named Medical Services Officer – UMSL Daily
The Saturday afternoon commencement ceremony for graduates of the University of Missouri-St. Louis will be just the start of a week of milestones for Michael Graham.
The communications major is expected to be made a medical services officer in the U.S. Army in a ceremony Tuesday at Graham Chapel on the campus of Washington University in St. Louis.
"They're both really big, but I'm really excited for the commissioning ceremony because I've been at it for 10 years," Graham said. "It will mean a lot. It's going to validate and reward the fact that I've put in so much work and finally reached this next level, and it's going to be really cool to be able to say that I've been on one side of the fence in the army and I'll work on the other one.
Graham, who grew up in Nevada, joined the military shortly after graduating from high school. At the time, he planned to go to college and study engineering, but changed his plans after meeting a recruiter and learning about the benefits he could receive from the GI Bill.
"The idea of ​​a free college sounded pretty good and I had a bit of patriotism," Graham said. "I thought, 'You know, I should serve my country. ""
After passing the Armed Services Vocational Aptitude Battery – a multiple aptitude test intended to measure developed abilities and help predict future academic and career success – and with encouragement from his mother, Graham began training of doctor.
He originally planned to serve a four-year enlistment, but military life, with its structure and the sense of purpose it provides, suited him.
"It fits my personality well," he said. "It gives me the freedom to do decentralized execution. I don't always have to ask my boss to do something, but there's always an overarching goal that I know I need to achieve."
Graham's time in the military also took him around the world, including nine months in Kuwait and four years stationed in Germany.
It was two or three years into Graham's service that one of his bosses suggested he work towards becoming an officer. He initially rejected the idea, preferring the hands-on activities that enlisted doctors are tasked with.
"That's the fun thing," Graham said.
Becoming an officer meant giving that up for management work as well as planning and logistics, and he was in no rush to do that job.
With more time and experience, Graham found himself accepting some of these management and logistical responsibilities, and he found he enjoyed other aspects that came with it, such as the ability to teach his peers.
Performing these duties as an officer offered the prospect of increased pay and more opportunities for advancement, but he had to earn a bachelor's degree.
Several supervisors in Graham's last posting had completed the Army's Green to Gold Active Duty Option program, which is for soldiers interested in pursuing a bachelor's or graduate degree and earning a commission as a army officer. They encouraged Graham to apply.
He was a strong candidate because he had already taken enough online courses during his time in the military to earn an associate's degree in general studies with a 3.8 GPA. He had also performed well in the army combat physical fitness test and competed in army medic competitions, and he had come with the highest recommendations from his commanders, so he was accepted into the program. to start school in the fall semester 2020.
Graham spoke to a recruiter while trying to figure out where to study, and the recruiter recommended that he look at schools in the St. Louis area. The first one he looked at was UMSL.
"It was a good transfer of credit," Graham said. "It looked like a decent program, and I was like, 'You can't go wrong with a public school. So, I chose it, and I'm pretty glad I did.
He was unaware at the time that UMSL had been ranked in the top 50 nationally on the Military Times' "Best for Vets: Colleges" list for the past seven years due to its strong support for related students. In the Army.
Graham learned why during visits to the UMSL Veterans Center for help completing the paperwork required to ensure his classes are paid for with his military benefits.
At first, Graham considered majors such as business, general studies, and organizational leadership, but eventually settled on communications — specifically strategic communications — believing it might help him work in relationships one day. public or social media marketing after his time in the military.
He was pleased with this choice, finding support professors in the Department of Communication and Media such as Jill Alexander and Ryan Krull.
Graham also gained some professional experience this year as an intern with The Barnett Agency, a student-run organization in the Department of Communications and Media that focuses on providing clients on campus and in the community with strategic communication campaigns and public relations solutions, including communication. research, content creation, writing, photography and social media management.
Most of Graham's classes have been online for the past two years amid the COVID-19 pandemic, but he still comes to campus frequently and enjoys studying at university libraries or Provincial House.
He also developed an affinity for the Saint-Louis region.
"It was an adjustment at first, but now I really like it and I'm going to miss it," he said. "I really like the culture; the food; the different types of attitudes and atmospheres within the city – whether you are downtown, mid-west, north county or south county. It's really cool. The only thing missing is a big mountain for me to snowboard on.
While in school, Graham was a member of the St. Louis Army ROTC Bridge Battalion, which is based at Washington University but draws cadets from St. Louis area universities. He is the battalion command sergeant major.
After earning his commission next week, Graham will travel to Texas for officer training and hopes to eventually return to Germany as he continues his military career.
He also expects to return to school before too long, possibly to pursue a master's degree in business and health care administration.
"I feel like it's something that I put off for a long time," Graham said. "I was always like, 'I have to graduate.' But it's just a stepping stone, and now that I've done that, I'm more inspired to get my master's degree. I've always loved learning and going to graduate school, so it's been a good stepping stone for me to doing that dive which was a little uncomfortable, but now I'm excited to continue.

Short URL: https://blogs.umsl.edu/news/?p=93752